Year 2000: A Big Year For Kevin Zegers!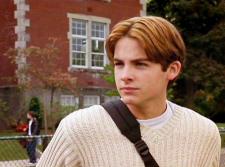 Air Bud 3

By cpps90
Jan 1, 2001

It started in Los Angeles...and ended in Los Angeles.

Kevin's acting career in year 2000, that is.

With the filming of

Time Share

in Malibu Beach in early 2000, and finishing with the filming of NBC's

Titans

near Pasadena, the year 2000 became a major stepping stone for the acting career of Kevin Zegers.




New Movies, New Animals


Ever since starring in the first

Air Bud

, Kevin Zegers, who turned 16 on September 19, has amazed the film world with his prolific output. Kevin's first project in 2000 was filming the TV movie comedy

Time Share

with James Bond star Timothy Dalton, veteran actress Nastassja Kinski, and teen soap star Billy Kay.

The year 2000 also saw the debut of independent film

The Acting Class

at the Maryland Film Festival in April. This film parody of the eccentricities of real-life acting classes co-stars Kevin as Lou Carpman. The movie is the directorial debut of Jill Hennessy, star of TV's

Law & Order

and Kevin's co-star in 1999's

Komodo

.

The year saw the release of many of Kevin's 1999 projects. High on this list was the French-Canadian independent drama

4 Days

, which was released on video in early 2000. Initially priced at a prohibitive $53, the video is finally available at a much lower $10.99. This is good news not only for Kevin's fans, but also for Kevin who has frequently singled out

4 Days

for special praise.

Animal movies have played a large part in Kevin's career. In 1999, a chimp and a Komodo dragon were added to his list of animal co-stars. However, the two films,

M.V.P. - Most Valuable Primate

and

Komodo

were not released until the second half of 2000, which also saw the video/DVD release of the third installment of

Air Bud

. While last year, Kevin did promotional tours for

Air Bud: Golden Receiver

, this year he concentrated his efforts on

M.V.P.





Komodo

was a radical departure from Kevin's more family-oriented animal films. Filmed between October and December 1998 in Australia, the movie features Kevin as a boy who is left traumatized after his parents are killed by starving Komodo dragons. The movie was a take-off on

Jurassic Park

, and gave Kevin, who was 14 at the time, a chance to display the more dramatic side of his acting.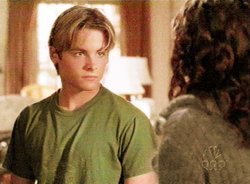 Titans

, Episode 6

Titans


Without doubt, the highlight of the year for Kevin and his fans was his selection to co-star in the new NBC series

Titans

. Kevin landed the role without an audition, having gotten the nod from no less than one of TV history's luminaries Aaron Spelling. Spelling had already cast Kevin in another TV pilot

Finally Home

and decided to offer the role of Ethan Benchley to Kevin as well.

Although

Finally Home

never made it to the Fall 2000 lineup,

Titans

did. The role of the child-abuse victim Ethan was a breakout role for the talented Kevin. In addition, the TV exposure gave many TV viewers their first look at the handsome Canadian. Teen magazines and internet sites burgeoned with talk and excitement over TV's newest teen star.

But lackluster ratings hampered the series from the start. On Dec 6, only two months after the show's debut, NBC announced it was cancelling

Titans

. Insiders, however, speculate that

Titans

might be picked up by another network.

Titans

is also making its debut in England in January, all of which could give networks reason to continue the show.





Kevin Conquers The Internet


Although Kevin is not directly involved in any web sites, his surge in popularity during the second half of 2000 was a boon for web-savvy fans. New web sites and clubs on Kevin multiplied, especially after the Oct 4 debut of

Titans

. And while activity on the "official" fan sites seems to have waned, the activity on one site in particular has clearly skyrocketed.



The Kevin Zegers Gallery

has emerged as the primary web site for "Ziggy" fans all over the world. Created in March 1998,

The Kevin Zegers Gallery

(http://www.cpps90.com) was the first stand-alone web site dedicated to Kevin Zegers. Since its humble start as an 8-gallery picture site, the site has grown to almost 200 galleries, making it by far the biggest collection of Kevin pics on the World Wide Web.

Kevin's fans have done much to build the site. Fans from all over the world have sifted through numerous magazines and newspapers, and have submitted their information for posting on the site. As a result,

The Kevin Zegers Gallery

has evolved from a picture-only site, to one that features movie clips and news articles. New features like polls and a Message Board were also added on the advice from fans.

Kevin's fans have shown their solidarity in other ways. The popular weekly poll on TeenCelebsPlus.com was dominated by Kevin's fans who kept Kevin at the #1 spot for no less than 11 weeks in the second half of the year. In December, they pushed Kevin to the #1 spot in TeenCelebsPlus' special "Fave Male Teen Celeb!" poll in spite of a 1,000 vote deficit.

An informal Star Wars casting call on www.TheForce.net started with Kevin in 4th place. But when fans found out, they pushed him into a first place tie with Ryan Merriman. This was the only joint win ever encountered in the site's "Casting Call" series.

One of the most extraordinary demonstrations of Kevin fandom was the sale of a $9.00 autographed photo on www.eBay.com for a whopping $202.50. It was the most expensive sale out of 119 celebrity autographs on sale at the time on eBay, the #1 online auction site.

Pictures were not the only Internet items selling well. The online video retailer www.TheMovieSource.com was reporting heavy demand for the video

4 Days

despite its high $53 price tag.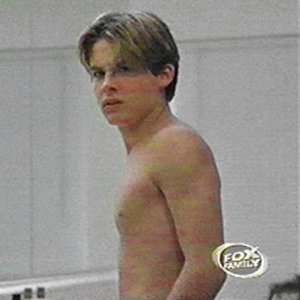 Time Share

Kevin Is Still Hot!


Kevin has been an athlete all his life. But it wasn't until the year 2000 that fans saw just how much of a jock he was.

When Kevin was 13, he was 5'03", 105 pounds. At 14, he took up serious weight-lifting for the first time. His growth was incredibly rapid: in 1999, his body weight reached an amazing 152 pounds!

Fans got a whiff that something about Kevin was changing when they first saw the 14-year old actor as Ryan White Bollman in the Oct 22, 1999 broadcast of Disney's

So Weird

. This half-hour guest role as a science prodigy turned out to be one of Kevin's most popular roles. Despite the glasses and lab overcoat, fans raved about how hot Kevin had become since his early days in

Air Bud

and

The X-Files

.

It wasn't until June 18, 2000 that fans got a good look under that lab coat! On that day,

Time Share

made its TV debut, and so did Kevin's newly buffed-up look. The 15-year-old's mirror scene lasted only 15 seconds, but it was enough to take the fans by storm.

Kevin has never been shy about his body image, as he proved in

Titans

. Episode 4 (Oct 25, his second appearance) featured him in an extended swimming scene, and later in a tank top. Episode 5 showed Kevin in scuba gear, and Episode 10 displayed him once again shirtless during a scene with Victoria Principal. In other episodes, Kevin's sweaters were often strained by the sheer size of his large chest and muscular arms.

The eBay photo that sold for $202.50 showed Kevin, 15, in a dark sleeveless shirt. The razor-sharp definition of his biceps was plainly evident. These muscles looked as tough as nails.

Kevin continues to work hard to keep his body in shape. He was lifting weights while filming

Time Share

, and also worked out with fellow fitness buff Caspar Van Dien while making

Titans

. He admits in interviews that working out is a favorite activity, and even told a curious fan how much he could bench press.

Today, Kevin is 5'08" and tips the scales at a solid 145 pounds. The results of his workouts continue to amaze his fans. Even non-fans cannot help but express admiration upon seeing photos of this muscular actor.





Kevin Is Bigger Than Ever...and not just his muscles!


In January 2000,

The Kevin Zegers Gallery

was receiving about 200 hits a day. By December, that number had reached 800 a day - and this, despite the cancellation of

Titans

. Such a marked increase could not possibly be explained by mere improvements to the site. Clearly, the cause could only be one thing: the growing success of Kevin Zegers.

It is probably the greatest compliment to

The Kevin Zegers Gallery

, then, that the newest visitor is none other than Kevin Zegers himself, who has graciously taken the time to use this site to keep in touch with his ever-growing legion of fans.

In the year 2001, Kevin's career will no doubt continue to expand as more and more people discover this exceptional actor. At the same time,

The Kevin Zegers Gallery

will continue to keep fans in touch with Kevin's work, and hopefully with Kevin himself.



Wishing the very best to Kevin Zegers in 2001!