Virginia's Run

debuts at California film festival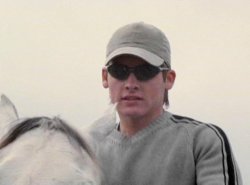 Virginia's Run

By cpps90
March 4, 2002

Kevin Zegers' new film

Virginia's Run

was given its North American premiere at the 17th Santa Barbara International Film Festival on Sunday, March 3, 2002.

Virginia's Run was filmed in Shelbourne, Nova Scotia between April and June 2001.

Kevin, who was 16 when he made the film, plays Darrow Blake, a competitive horse rider.

Here is the film synopsis from the Festival's web site (http://www.sbfilmfestival.org/fest2002.html):

VIRGINIA'S RUN
U.S.A., 2002, color, 35mm, 1:43
Director: Peter Markle; Producers: Robert Schwartz, Leif Bristow; Written by: Valarie Trapp, Peter Markle; Cinematography: Joel J. Ransom; Editor: Patrick McMahon, A.C.E.; Main Cast: Gabriel Byrne, Joanne Whalley, Lindze Letherman, Kevin Zegers

Young teenager Virginia (Lindze Letherman) is trying to come to grips with the death of her mother in a horse-riding accident two years earlier. To deal with her sense of loss, she nurtures her mother's horse's foal. Nicknamed "Stormy" by Virginia, the horse belongs to local powerhouse Mr. Blake (Robert Guy Miranda).

Virginia's protective lobsterman father Ford (Gabriel Byrne) forbids Virginia to ride horses, unwilling to have his daughter suffer the same fate as her mother. But when capable trainer Jessie (Joanne Whaley) is hired to care for Stormy, Ford relents and allows Virginia to ride the feisty horse.

But the Blakes make powerful enemies, and when Virginia mounts a challenge to win the coveted annual equestrian tournament trophy away from Blake's son Darrow (Kevin Zegers), Virginia and her family learn just how far the Blakes will go to preserve their absolute power.

A nuanced coming-of-age drama, VIRGINIA'S RUN serves as a moving testament to the power of following one's dream.

About the director: Peter Markle is a noted film and television director whose credits include WAGONS EAST, YOUNGBLOOD, and episodes of CSI and ER.

Invited Guests: Peter Markle, Robert Schwartz, Leif Bristow and cast.