Slam Dunk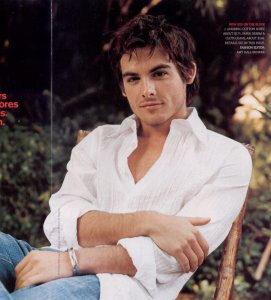 Kevin Zegers, 19


Former child star Kevin Zegers (admit it, you saw

Air Bud

) scores big with two new leading roles.
by Scott Lyle Cohen,
Photography by Paul Jasmin
Teen Vogue (March 2004)

Tales of child actors whose careers have gone to the dogs are the stuff of Hollywood legend, not to mention E! Network programming staples. But Kevin Zegers, who nabbed his first film lead as a twelve-year-old in 1997's Air Bud opposite a perky golden retriever, has seen his trajectory go in the opposite direction.

A model from the age of five, Zegers did some catalog and commercial work in his native Canada until he landed the Air Bud gig (three sequels followed, as did MVP: Most Valuable Primate, in which he shared the screen with a hockey-playing chimpanzee).

Next month, the actor is putting the canines and chimps solidly behind him, and trading them in for zombies. He costars with Sarah Polley and Mekhi Phifer in Dawn of the Dead, a remake of the 1970s horror classic.

"There's a ton of action," he says. "But it's a lot smarter than it needs to be for a zombie movie. We're not doing the stupid things they do in horror movies, like hearing the killer outside and then going out saying, 'Who's there?' We're actually trying to survive!"

Having recently moved out to California where he shares a Hollywood Hills home with his friend, actor Chris William Martin (Felicity), nineteen-year-old Zegers is reveling in his newfound responsibility.

"Chris and I are still kind of kids," he laughs, "but we do what we think are adult things. We go for a run in the morning, then we make breakfast, drink coffee, and read the newspaper."

After that, Zegers kills time messing around on his guitar, playing ice hockey, hanging out with his girlfriend (Kaley Cuoco from TV's

8 Simple Rules

, whom he met filming the upcoming indie The Hollow), golfing, and shopping.

"I dress relaxed, but I'm still a clotheshorse," he admits. "I have fifteen pairs of jeans and 30 pairs of shoes - I'm a total metrosexual."

NOTES from cpps90:
1. Kevin Zegers and Kaley Cuoco had stopped going out together by the time this article was published.
2. Kevin does a

lot

of running: 10 miles at a time!
3. Kevin moved to California in the summer of 2002 when he was 17.