Kevin Zegers biography in www.ScreenTradeCanada.com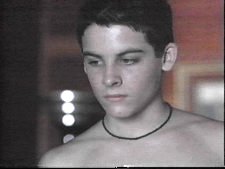 4 Days
NOTE from cpps90: This article was downloaded from http://www.screentradecanada.com/ on Oct 3, 2000. It details many of Kevin's acting career projects and also talks extensively of his involvement in sports. Strangely enough, it never mentions the fact that Kevin plays basketball. This article was written by Behaviour Distribution (now known as Séville Pictures), which distributed "4 Days". The article was prepared when Kevin was 14, and apparently before he filmed "Komodo" and "MVP".
By the time he turned 14, Kevin Zegers was already a film veteran. Born in Toronto, Zegers starred in the Disney/Miramax hit Air Bud ('97) and Keystone Entertainment's Air Bud 2 -- Golden Receiver ('98). In Alliance's It Came the Sky ('98), opposite John Ritter, JoBeth Williams, Yasmine Bleeth, and Christopher Lloyd, he met the challenge of playing a brain damaged child who does not utter a word the entire film.
He recently completed two feature film roles. One, Treasure Island ('98), was filmed on the Isle of Man, and has him starring alongside Jack Palance. In Nico the Unicorn ('98), co-starring Ann Archer and Michael Ontkean, Zegers plays a handicapped child who wears a leg brace. To prepare for the role Zegers, who'd never before ridden a horse, had to take extensive riding lessons before filming began. He has a lead role upcoming in Bram Stoker's The Shadowbuilder.
In his first feature film, Zegers played the young Michael J. Fox in Touchstone's Life With Mikey ('93). This was followed by Thicker Than Blood ('94) with Peter Strauss, and John Carpenter's In the Mouth of Madness ('95) with Sam Neill.
Though a rising teen star in feature films, Zegers is no stranger to television audiences. He recently played the lead in Universal's A Call to Remember ('97), with Blythe Danner and Joe Mantegna He also starred in the recently aired Hallmark Hall of Fame movie Rose Hill ('96). Canadian television viewers are familiar with him from his recurring role in the series Traders.
He's starred in the Movies of the Week, Cold Heart of a Killer and Silence of Adultery, in which he portrayed an autistic child. Zegers has also had guest starring roles in The X Files and Goosebumps, as well as lead roles in the Canadian series Avonlea and Street Legal.
An avid sports enthusiast, Zegers enjoys skiing, hockey, golf, and horseback riding, which he uses to relax with his friends, most of whom he's known since kindergarten. He enjoys school and his favourite subjects are math and science. He is interested in sports medicine and hopes to go on to college along with pursuing his acting career. Fluent in French, he is skilled in skateboarding, soccer, football, swimming, tennis, volleyball, cycling, mountain biking, rollerblading, and track/field. In his spare time he enjoys watching action movies.