Cassavetes Revs 'Ritchie'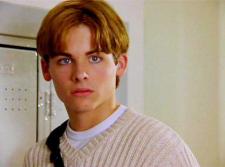 Kevin Zegers

By Dana Harris
Tue Sep 24, 4:20 AM ET


HOLLYWOOD (Variety) - Nick Cassavetes is producing "The Incredible Mrs. Ritchie," a drama that stars his mother, Gena Rowlands, as well as Kevin Zegers.

The picture, which marks the feature writing and directing bow of Paul Johansson, also stars Leslie Hope, David Schofield and James Caan. The picture is now in production in Calgary [ Alberta, Canada ].

Zegers, who most recently wrapped the thriller "Wrong Turn," portrays a troubled youth who develops an unlikely and life-changing friendship with a widow (Rowlands).

Cassavetes previously directed his mother in "She's So Lovely" (1997) and "Unhook the Stars" (1996).