Teen Titan





With a part in the new Aaron Spelling television series, Titans, and a movie just out, Woodstock's Kevin Zegers' star is definitely on the rises



By Noel Gallagher -- Free Press Television Reporter
Aug 12, 2000

Kevin Zegers is anxious to get rid of his cute Hollywood nicknames, "dog boy" and "the monkey movie kid."

And the 15-year-old performer figures a serious role on a new American network TV drama series will help him do just that.

"I think people will see more of the things I can do as an actor on Titans," says the Woodstock native, referring to the prime-time show slated to debut on NBC this fall.

Kevin's quick to add he loved doing the animal movies that inspired his aliases.

He's currently co-starring with a hockey-playing chimpanzee in MVP-Most Valuable Primate after playing basketball and football with the canine stars of Disney's two hit Air Bud films.

"I had a great time with the dogs and the monkeys, but it's gonna be real cool to work with all these good actors too," says Kevin, referring to Titans' human cast.

Victoria Principal, Perry King, Yasmine Bleeth and Casper Van Dien are the adult performers in the Dynasty-like series produced by Aaron Spelling, whose TV hit list includes Charlie's Angels, Melrose Place and Beverly Hills 90210.

While waiting to begin shooting the show in Los Angeles later this month, Kevin's been busy promoting MVP.

"It's a chimp movie, it's not about me, and I never thought it was anything else," says the modest movie star, who attended MVP's premiere in Toronto on Thursday night.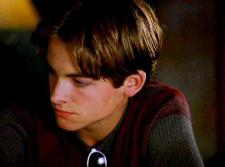 Air Bud 3

Robert Vince, producer of MVP and the Air Bud films, is one of the Canadian's biggest boosters.

"Kevin's very real and he possesses tremendous range and talent as an actor," adds Vance. "It's just a matter of time before his career really takes off."

"Mr. Vance has helped me a lot and he also taught me that you can have fun and still make a good film," says Kevin, who drew parts in the movies Life with Mikey, opposite Michael J. Fox, and John Carpenter's In the Mouth of Madness following his "big break," an impressive TV guest shot on The X-Files.

The quiet, confident teenager sees Titans as an even larger career opportunity.

"The exposure is incredible because millions of people watch you every week when you're on a show like that."

As the youngest Titan, Kevin's expected to draw teen viewers to the show, but he doesn't feel that puts "any extra pressure" on him.

Recently, he was thrilled to learn the show's writers are revamping his character, Ethan.

"Ethan's going to be a bit more mischievous and that will be very different from most of the nice-guy parts I've played so far."

The handsome youngster says he's flattered when newspaper and magazine stories call him a "teen hearththrob" and shyly reports getting an increasing amount of fan mail from adolescent girls.

However, he has no interest in becoming a pretty boy: "I'm an actor, not a model. It's not my job to attract people. That's not what I'm here for."

Kevin, who began appearing in TV commercials at age six, is at a loss to explain where he gets his acting talent. "I've just always been comfortable in front of the cameras and somehow had the confidence that I could do it."

His TV and movie assignments have meant spending long periods away from his home and family and missing activities with his friends at St. Mary's high school in Woodstock, but Kevin says the sacrifices have been worth it.

"Acting's like the best job in the world," adds the rising young star, while noting the profession's only major downside is "the rejection thing."

"Everybody, even Tom Cruise and Anthony Hopkins, gets turned down for roles. The thing is not to take it personally."

He praises his parents, Jim and Mary Ellen Zegers, for helping him plan his career and deal with its stresses.

"They're the ones who keep my head on my shoulders and make sure I'm going in the right direction."

His career course now points to Titans, a series with back-stabbing intrigue that sounds somewhat similar to Kevin's favourite TV show, Survivor.

"Man, I liked Colleen a lot and I couldn't believe it when she got kicked off!" says Kevin about the contestant eliminated from the TV game show this week.

Kevin predicts Sean will be the next castaway to be cast off, followed by Kelly and then Sue, leaving Rudy and Rich in the final balloting on Aug. 23 "and then Rich will get booted off because everybody really hates him."

The actor is well aware that the competitive world of network television he's entering makes life on the Survivor island look like child's play.

"Yeah, all of this is nerve-wracking and exciting at the same time."

No matter how his show business career develops, Kevin is adamant about one life goal: getting a university degree and becoming either a doctor or a teacher.

"Education has always been the No. 1 thing with me," explains the movie star who's one month away from his 16th birthday.