Enough With The Animals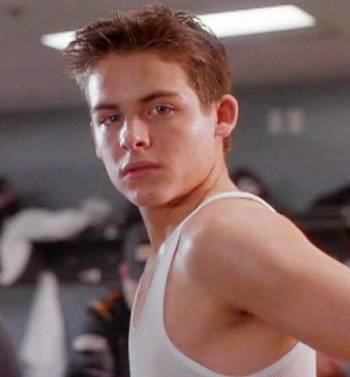 M.V.P.


Thursday, October 10, 2002



From now on, Woodstock-born actor Kevin Zegers means to be billed well above any critters in his films.



By NOEL GALLAGHER, Free Press Arts & Entertainment Reporter

Three movies are currently on the mind of Kevin Zegers.

The Woodstock-born actor is in Calgary filming

The Incredible Mrs. Ritchie

. He's also giving interviews to promote

Virginia's Run

which opens tomorrow in theatres across North America. At the same time, he's waiting to learn if he's won the biggest screen role of his career.

"It's the lead in a huge film, to be made in California, with a lot of money behind it, and will get the attention of everybody," says Zegers, 18, who's willing to exhibit his enthusiasm for the blockbuster project but can't reveal its title.

He dutifully returns to discussing

Virginia's Run

, which marks another stage in his development as an actor.

"It's a nice movie that I think people will like and it's also a stepping-stone for me to get to doing more dramatic roles," says Zegers. He's put behind him the animal-film assignments that had earned him the whimsical nicknames "Hollywood's dog boy" and "the monkey movie kid."

At age 12, Zegers was cast opposite a basketball-playing canine in the 1997 Disney picture

Air Bud

. The next year, he reprised the role of the title dog's best friend, and now football teammate, in

Air Bud: Golden Receiver

. Two years later, a third critter movie,

MVP -- Most Valuable Primate

; this time, his co-star was a hockey-playing chimpanzee.

While

Virginia's Run

does features horses, they're only supporting players to the human cast, led by Gabriel Byrne and Joanne Whalley.

Filmed on Nova Scotia's south coast in the spring of 2001, the movie's been described as a "sweet, life-affirming and family friendly" production that fits into the horse-story genre of National Velvet and Black Beauty.

Its plot focuses on a sad and strict widower, Ross (Byrne), raising two teenaged daughters: Virginia (Lindze Letherman), who secretly rides and races horses, and her older sister, Caroline (Rachel Skarsten), who's romantically involved with Zegers' character, Darrow.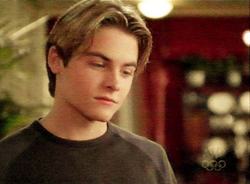 Titans



Darrow's the "bad boy" who, while dating Caroline, is Virginia's ruthless rival in the race that creates the film's climax.

"It's the first time I get to be the villain in a big movie," says Zegers who launched his career as a six-year-old acting in TV commericals and later did small parts in Canadian TV movies and sitcoms.

His major career break came when he played a mysterious child in an episode of TV's popular

X-Files

series. Other film roles followed, leading to Zegers getting the pivotal role of Jim Hawkins in the latest screen version of the classic novel

Treasure Island

, opposite Oscar-winner Jack Palance as Long John Silver.

He was also a regular cast member on the American TV dramatic series

Titans

, which ended in 2000.

In

The Incredible Mrs. Ritchie

, Zegers plays Charlie, a young man whose troubled life is changed by a high school principal, played by James Caan, and the title character, a wise, older woman portrayed by Gena Rowlands.

"They're amazing, unbelievable actors," he says of his co-stars. The movie is scheduled to premiere in January at the prestigious Sundance Film Festival.

"Naturally, I was a little bit intimidated when we started filming, but I just had to trust in myself, stay focused and be confident. If you get nervous, you're not doing your job, which is to work together with everybody and make the best movie you can."

Returning from a recent four-day visit with her son on location in Calgary, Mary-Ellen Zegers noted he's maintaining a respectful and considerate attitude toward everyone in the movie production company. "Kevin's always been very mature that way," she adds. "For the past 18 years, he's been raised in a moral way, so he has a conscience inbred in him and I don't think he'll change that."

Mary-Ellen Zegers says her son's acting career has often meant his absences from his Woodstock home and separations from her, his father Jim and sisters Krista, 19, and Katie, 17.

"We've missed some quality togetherness time, but we have the phone bills to show we've made up a part of that," she adds. "But I think the sacrifices have all been worth it."

In July, his parents travelled to Los Angeles, to help Zegers move into his own apartment.

"Single and looking" is the young actor's short reply to the question of his dating/marital status.

Like Zegers, his mother is both excited and worried about the movie role he's longing to get.

"It would definitely be the biggest thing that's happened to him so far. But Kevin's up for about 200 projects and only does two or three films a year. It's a lottery and if you win, you win. And if he doesn't get the movie, it's just as I'm always telling him, everything is a growing experience."

Regardless of his on-screen future, the emerging movie star says he hasn't abandoned his plans to some day become a doctor.

"The two passions in my life have always been acting and medicine," says Zegers, who graduated in June from St. Mary's Catholic high school in Woodstock and will soon begin taking college courses through the Internet.

His immediate and pressing concern, however, is the major movie offer, which could dramatically affect his screen ambitions.

"Right now, it's a 99.8-per-cent sure thing, but they could call me up and say, 'Sorry, but we found someone better-looking and more talented.' And you have to be ready for that. In this business, you have to be able to handle criticism and rejection. If you can't, then you should be doing something else."