Kevin Zegers: Bench Pressing 205 Pounds!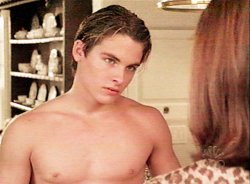 Titans

- Kevin is already muscular at 15!

By cpps90
Nov 4, 2000

It's official: Kevin Zegers can bench press OVER 200 pounds.

This information came from a fan who just received an answer to a letter sent to Kevin at the

Titans

TV set. The fan had asked about Kevin's bench press. In his reply, Kevin revealed that he could actually bench press 205 pounds.

Kevin, a lifelong athlete whose specialties include football, basketball, and hockey, began weight training seriously at age 14. He progressed rapidly, adding considerable bulk to his already well-built frame.

His chest strength was particularly impressive. In the spring of 1998, in answer to a dare from a friend, Kevin bench pressed 200 pounds, a personal best. He was still only 14 when he lifted 200.

Kevin, who turned 16 in September, has continued to work out with weights and has maintained a buffed look that has attracted the attention of his many fans. While on the set of the Fox Family Channel TV film

Time Share

, he would spend the morning working out and playing basketball. He also went running and rode a bike when he felt the need to burn off calories.

His muscular look was a highlight of

Time Share

(broadcast June 18)

And while many teen roles in nightly soaps are cast with older actors to provide the necessary "hunky" look, NBC gave the

Titans

role of Ethan to Kevin. At 15, he already had the mature look and muscularity needed for the role. The October 25 episode of

Titans

showed dramatic proof of Kevin's physical gifts.

His reply to the fan's letter also included an autographed postcard and his current stats: 5'8", 145 pounds. Kevin weighed in at 152 pounds a year ago.