Woodstock Actor In Guest Role On New Medical Show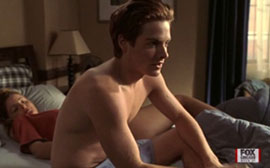 Kevin Zegers in

House

By Geoff Dale - Special to The Sentinel-Review
Tuesday November 30, 2004

http://www.woodstocksentinelreview.com/story.php?id=129755

Woodstock Sentinel-Review - WOODSTOCK - Kevin Zegers has shot hoops with a court savvy canine, walked the plank with Oscar winner Jack Palance and battled flesh-hungry zombies in a deserted shopping mall.

Tonight at 9 p.m., on the Fox network's new medical show House, get ready to set your TV dials for the next instalment of the talented young Woodstock actor's burgeoning career.

"I play a young guy who has just had sex with his girlfriend," the 20-year-old Zegers said during a brief family visit home earlier this week. "For some unknown reason, I get very sick, pass out and go into a coma. That's the job of the doctors - to find the cause. You'll have to see the rest to find out just what happens."

It's an admittedly bold move for both him and Fox. The U.S. network seems to thrive on quirky and dysfunctional shows, from earlier outings like Married With Children through the venerable Simpsons, alongside a host of reality and news shows.

House stars Hugh Laurie (Stuart Little, Sense and Sensibility) as a physician without any apparent bedside manner, almost bordering on the antisocial. Brutally honest, the maverick and irreverent doctor, whose own mobility requires a cane, relies on unconventional and sometimes questionable tactics to solve the seemingly unsolvable with his equally odd medical team.

"I came to the show through an association with one of the executive producers and director of three episodes, Bryan Singer (X-Men, Superman Returns 2006)," Zegers said. "I've known Bryan for quite some time and we share some common friends. A friend of ours worked on his X-Men films.

"I was asked to come in to read for the part of the young college student and here I am. It was a great experience," he said.

"Hugh Laurie is a great guy, as is Omar Epps and other cast members. It usually takes eight or nine days to film a TV episode, but Bryan took his time and the result is that it looks more like a movie than it does a standard TV show. This is the third episode Bryan directed."

Tonight's Fox outing comes right on the heels of another intriguing cinematic offering that Zegers said should be out in time for the 2005 festival circuit (Cannes, Toronto and Sundance). The independent film, Transamerica, was directed and written by New York-based Duncan Taylor (The Mountain King) and stars Felicity Huffman (Desperate Housewives, Frasier, Sports Night), Zegers and Graham Greene (Dances with Wolves).

NOTE from Veronique:
Cannes 2005 is May 11-22
Toronto 2005 is September 8-17
Sundance 2005 is January 20-30

"I heard about the Fox show when I had finished shooting in Arizona," he said. "The movie is about a transsexual and her gay, heroin addict son. The role of the son was very interesting for me, another great opportunity to do something different. I'm out there right now - just waiting for those opportunities.

"My career, with this movie and the Fox show, is moving in the direction I'd like. Kind of a road trip, it was a very good experience, a very cool movie. We shot a month in New York and a month in Arizona."

So what's next after Zegers' medical woes on House?

"I'm up in the air with a couple of movie projects starting in January/February [2005]," he said. "There are possibilities, but I'd like to wait and see before saying too much about them. I like the chances I've had so far.

"Dawn of the Dead (which received a coveted thumbs up from Pulitzer Prize wining critic Roger Ebert) did much better than a lot of us thought, so I was very pleased with that. I'm looking for more challenges in 2005."